GRTC
Riding GRTC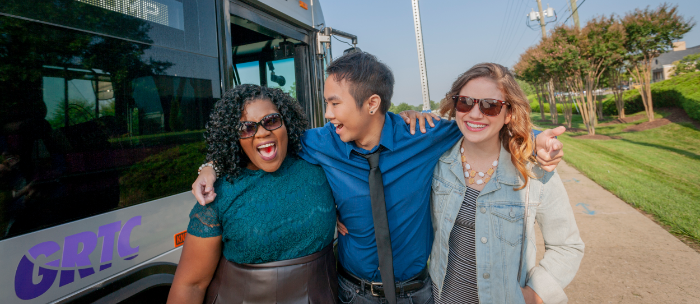 All VCU, VCU Health System and Virginia Premier students and employees have unlimited transportation access on GRTC's Pulse Bus Rapid Transit, local and express routes.
The GRTC network provides VCU students and employees greater access to VCU, VCU Health and the entire Richmond region. In addition to connecting the Monroe Park and MCV Campuses, students and employees can access doctors, shopping malls, parks, arts, restaurants, community resources and more. Plus, commuters can use GRTC to get to and from campus every day and save money on parking, fuel and tolls. Learn more about the benefits of using GRTC.
Travel between the Monroe Park and MCV Campuses can best be accommodated by GRTC's Pulse and Route 5. Learn how to ride.
Important update on GRTC headway times (Sept. 2023)
Effective September 11, 2023, GRTC, Richmond's public transportation system, will resume 15-minute intervals for Route 5 on weekdays between 5 a.m. and 7 p.m. GRTC's Route 5, together with the Pulse, are fast and convenient routes and the preferred method of travel between VCU's campuses.
Route 5

runs along Main Street and Cary Street, from Carytown to the Virginia State Capitol, with stops

along Cary Street and W. Main Street on VCU's Monroe Park Campus,

as well as near VCU Health buildings at One Capitol Square

(9th & Main), 8th & Marshall, 8th and Clay (Downtown Transfer Station), 9th & Marshall, and Leigh & 11th.

The Pulse

is a modern, high-capacity rapid transit system covering a 7.6-mile route along Broad Street with stops at both VCU campuses. It currently operates at 15-minute intervals from 6 a.m. to 11:30 p.m. GRTC is actively working towards 10-minute intervals for the Pulse.
GRTC service adjustments
Due to bus driver staffing shortages locally, Richmond's GRTC Transit system announced service adjustments starting December 19, 2022.
These adjustments are expected to be temporary and increase overall service reliability for passengers across all impacted routes. In the meantime, VCU will explore all sustainable alternatives should GRTC staffing challenges present longer-term impacts to intra-campus transportation service.
GRTC will reduce headways by five to 15 minutes for the Pulse route.
Pulse service will be every 15 minutes from 6 a.m. to 11:30 p.m. and every 30 minutes from 11:30 p.m. to 1 a.m.
Route 5 service is every 15 minutes from 5 a.m. to 7 p.m. (effective 9/11/23)
GRTC COVID-19 safety efforts
GRTC has taken additional safety measures to help ensure the well-being of drivers and passengers during COVID-19.
Daily disinfecting on high touch surfaces
Ridership promoted for essential trips only
Open windows during travel
Sanitizer available on board for passengers
Zero fare implemented
Face masks
Frequent staff testing

Bus redistribution from low-ridership routes to high-ridership local routes to promote physical distancing
Learn more about how GRTC is battling COVID-19 at http://ridegrtc.com/news-initiatives/news-updates/grtc-and-covid-19-coronavirus.