Motorist Assistance
Motorist Assistance
VCU Parking & Transportation is pleased to offer a Motorist Assistance Program for all VCU parking subscribers while parked in our Monroe Park or MCV Campus facilities. This program is FREE of charge for all VCU students, faculty and staff with a valid parking subscription. Services are performed by VCU Parking Enforcement and Safety Officers and are available Sunday through Saturday, from 5 a.m. to midnight..
Services:
Jumpstarts
Limited tire change assistance

(Ambassadors Do Not Change Tires)

Directions
Transport to gas station
Deck transport when elevators are inoperable
Walking escorts on parking decks
For additional information regarding each of these services, please view the VCU Parking and Transportation Motorist Assistance Policy.
Contact:
For motorist assistance on the Monroe Park and MCV campuses, please call 804-828-7091.
Once our staff is onsite to assist, please take a moment to fill out this form.
For non-emergency after-hour assistance, contact VCU Police at 828-1196. For emergency assistance, contact VCU Police at 828-1234.
Safety:
VCU Parking and Transportation strives to maintain safe, accessible and well-maintained parking facilities. As always, if you notice any suspicious activity, we encourage you to report this information, however minor, to VCU Police immediately at (804) 828-1234. There are also multiple Emergency Reporting Telephone System (ERTS) phones, located throughout our parking facilities, which provide a direct connection to the Emergency Communications Center should you ever find yourself in an uncomfortable situation.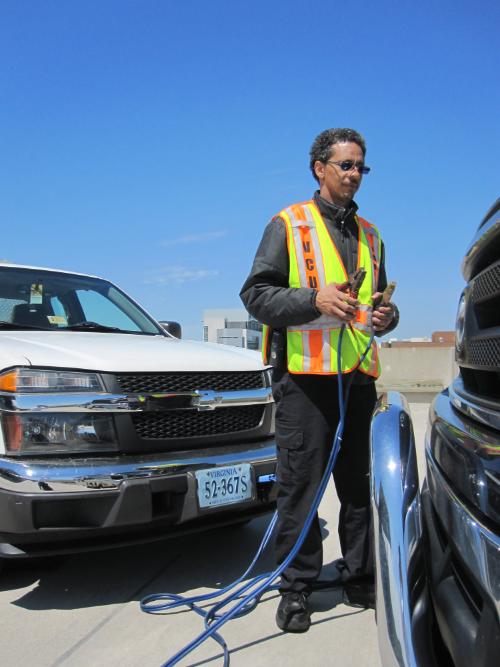 Vehicle Accidents
In the event you're involved in such a crash, as either the driver or a passenger, you have a legal responsibility to leave your information on the vehicle you damaged or contact police, including:
Your name & phone number
Your license plate and drivers' license numbers
Insurance company and policy number
If you don't feel comfortable doing this, take down the other vehicle's information and immediately contact VCU Police at (804) 828-1234. Details and a printable form are available online at: https://police.vcu.edu/services/hit-and-run-crashes/.
Additional Campus Resources:
RamSafe: 828-SAFE [RamSafe]

MCV Campus Escort: 828-WALK