RamRide Advertising
RamRide Advertising
Advertising on RamRide is a fantastic way to get your message out to the VCU community. Averaging over 3,000 passengers per day, RamRide serves a huge ridership and can offer your business or organization a high visibility, high impact communication tool for getting your message out to an educated and diverse audience. Ads are installed in all 21 buses on the five VCU routes (not including the Express route in the Summer).
Our four transit routes include:
VCU Campus Connector
Travels from the Monroe Park Campus throughout the MCV Campus
This is our most popular route with students!
Operates from 6:30am to 12am, Monday through Friday, and 8am to 1am on the weekends. Hours vary during summer semester and holidays
VCU Medical Center Route - I Lot
Goes throughout the MCV Campus, including Sanger Hall, the MCV Campus Bookstore and Coliseum Deck
Opportunity to reach medical professionals
Operates from 5:30am to 8pm, Monday through Friday
VCU Sanger Express - A Lot
Travels to the A Lot
Operates from 4am to 8pm, Monday through Friday
VCU Mayo Island Express - M Lot/ R Lot
Travels to the M lot and R Lots
Operates from 5am to 12am, Monday through Friday
To request a copy of the RamRide advertising kit, please email ramride@vcu.edu.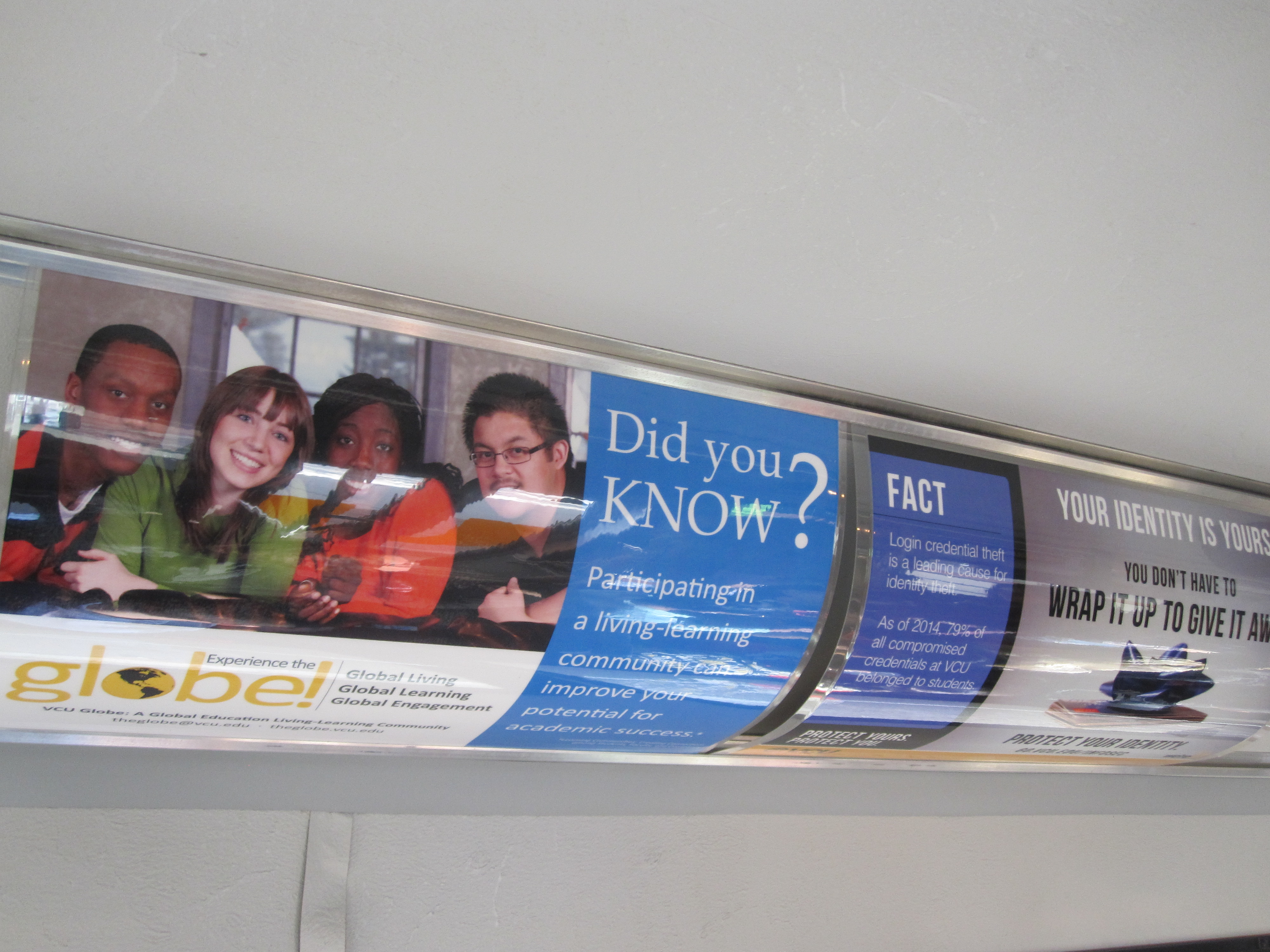 Request RamRide Advertising
---
Advertising Rates
Advertisements are displayed for a minimum of 4 weeks and can remain up for an indefinite amount of time. Standard prices start at $300 for one month and are discounted for longer commitments. See below for full pricing information.
| | | |
| --- | --- | --- |
| Duration | Price | Discount |
| 4 weeks | $300 per ad | $0 |
| Semester (Fall or Spring) (16 ad weeks) | $1,020 per ad | 15% off |
| Fall & Spring Semesters (32 ad weeks) | $1,920 per ad | 20% off |
| Summer Semester (13 ad weeks) | $975 per ad | 30% off |
* Payment must be submitted prior to ad installation.
Advertising Policies and Procedures
Advertisements should reflect the best interests of VCU and the VCU Community.

Advertisements for tobacco or tobacco related products, alcohol or alcohol related products, or pornographic products will not be accepted.

RamRide will not accept political campaign or political issue advertisements.

Advertisements may not be used for slanderous, discriminatory or inappropriate views and/or propaganda.

All ads are subject to approval by the advertising coordinator. Any ad may be rejected or removed at the discretion of VCU.

A sample (in printed or electronic format) of the sign must be presented to the advertising coordinator before signage is accepted. Artwork must be submitted for approval at least 10 business days before installation date.

Department or Vendor may choose a graphic designer and printing company, but any VCU nomenclature, seals and logos must be reviewed VCU University Relations.

Completed signs must be provided to the advertising coordinator at ramride@vcu.edu five business days before the start date.

Please wait for confirmation email before printing.
Payment must be submitted prior to ad installation.
No refunds will be issued after the approved ad has been posted in the RamRide buses.
Sign Specifications
Departments or Vendor should supply 21 copies of their advertisement with the following specifications:

Advertisements must be 11 inches tall by 17 inches wide with a quarter inch side border.
Signs must be printed on 14 point paper and laminated.
Materials should be recyclable if possible.
Nineteen copies should be provided initially. Additional copies may be required for advertising periods of more than 12 weeks.
Materials should be delivered to the Parking & Transportation Office, located at 1108 West Broad Street, Attn: RamRide Advertising.
Interior Advertising Billing