RamSafe
RamSafe
Stuck on campus late at night? RamSafe is the point-to-point evening transportation service dedicated for VCU students, faculty and staff. The program provides safe and free transportation to on-campus locations and nearby residences and buildings within defined boundaries on the Monroe Park and MCV campuses. VCU students, faculty and staff are encouraged to submit their requests at ramsafe.vcu.edu or 828-SAFE (7233) between the hours of 5pm and 8am to schedule a ride. RamSafe operates 365 days a year.
New RamSafe App Launched Dec. 2017!
On December 26, the RamSafe user application changed. VCU faculty, staff and students can access the new RamRide app through any Android or iOS app stores. Requests will also be accepted through the VCU Mobile app, ramsafe.vcu.edu or by calling 828-SAFE (7233). Users who have previously downloaded the RideCell application to their mobile device should access the new RamSafe app through one of the methods above.
For a step-by-step guide on how to use the new app, download the following instructions: How to use the new RamSafe app
Highlights of the new app:
New Notifications: Drivers will notify you when they are about a block away, and again when they arrive at the pickup location. Notifications will occur through the app and/or on your mobile device.

You must accept to receive notifications when prompted upon opening the platform and should have the app launched to take advantage of these features.
Users who call 828-SAFE AND have installed the app as well as provided their eID to dispatcher for their "rider name" will receive notifications, tracking info., etc. through the app. Otherwise, notifications for all other users will occur via SMS.

Real time ETAs: Estimated arrival times can now be adjusted in real time.
Enhanced tracking: You can more accurately track your driver when you are next in line to receive a pick up.
Accommodations: ADA and bike rack accommodations can now be requested through the app.
Cancellations: In the event you need to cancel, you will now be prompted to select a reason.

Please note, cancelling and resubmitting a request places the request at the bottom of the queue and does not provide a faster response time.
For feedback and/or questions regarding the new RamSafe platform, call 828-SAFE (7233) or email ramsafe@vcu.edu. You can also submit feedback directly through the RamSafe app following completion of the ride. For ADA assistance, contact 828-SAFE (7233).
Faculty, staff and students on the MCV Campus should continue to contact 828-WALK (9255) for MCV Campus transports.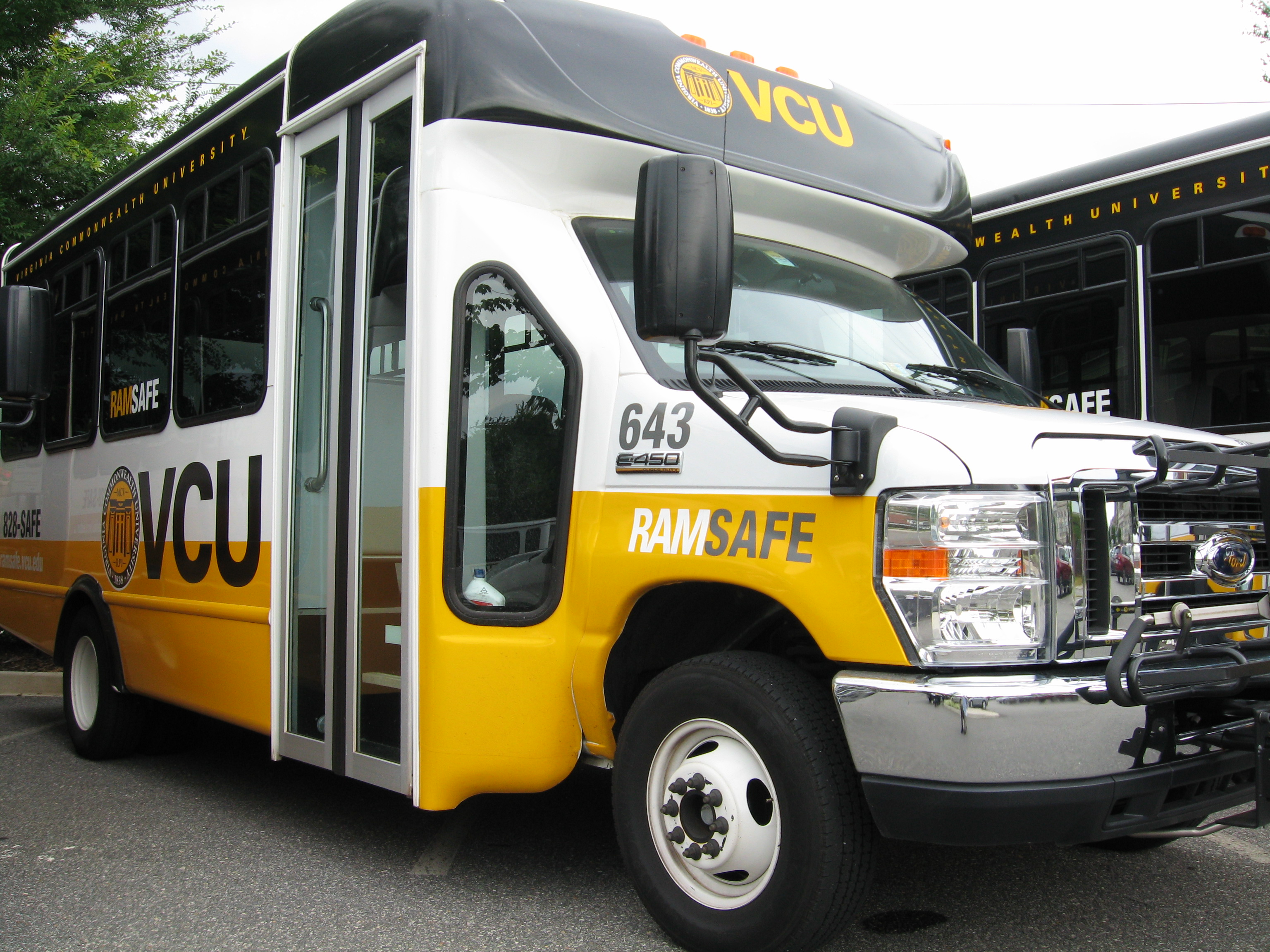 RamSafe Hours of Operation

Monroe Park Campus (RamSafe)

5 p.m. to 8 a.m.

MCV Campus (VCUHS Security)

5 p.m. to 8 a.m.

Fall/Spring Cross-campus Hours

Mon - Fri: 12 a.m. to 6:00 a.m.

(calls are taken until 5:45 a.m.)

Sat - Sun: 12 a.m. to 7:30 a.m.

(calls are taken until 7:15 am)

Summer Cross-campus Hours

Mon - Fri: 7 p.m. to 6:45 a.m.

(calls are taken until 6:30 am)

Sat - Sun: 5 p.m. to 7:30 a.m.

(calls are taken until 7:15 am)

View the RamSafe service areas: RamSafe Service Area- Monroe Park Campus and RamSafe Service Area- MCV Campus
---
*UPDATE: Alternate RamSafe Pickup Locations
Due to the new traffic pattern at the Campus Learning Center (900 Park Avenue), RamSafe is unable to pick-up and drop-off passengers safely from this location. The pickup location for this building has been transitioned to Cabell Library. Please note, all system requests for 900 Park Ave. will be redirected to Cabell upon entering.
The existing construction barricades on Franklin Street prevent a safe passenger pickup for RamSafe vehicles. As a result, the Cabell Library has been identified as a safer alternate pickup location for requests made within this area (drop-offs, however, will be made). Please note, all users requesting pickup service from these locations will be re-directed to Cabell Library.
---
How to Schedule a Ride:
Access RamSafe (ramsafe.vcu.edu) via desktop, laptop, tablet, smartphone or call 828-SAFE (7233). You can also access the RamSafe app through VCU Mobile or download the

RamSafe

app for iOS or Android. The new platform works best in the stand alone applications.
At ramsafe.vcu.edu, enter your eID and password and follow the prompts to enter a ride request. First-time users will need to enter a phone number.
Provide the following information so that we may easily identify you and document our activity:

Current pick up location and phone number (the online system only needs your phone number the first time)
Desired destination
Number of people in your party (The passenger making the reservation must have a valid VCUCard; guests must have a guest pass)
Any needed accomodations.

Once your vehicle is assigned, you can track it until it arrives.
You will receive notification once the RamSafe bus reaches your destination. The driver will wait 3 minutes before leaving.
Enjoy your ride!
PLEASE NOTE: More than 3 no-shows and/or cancellations during the semester may result in termination of riding privileges for that term.

Guest Policy:
Two guests can be brought onto the RamSafe bus. Guests are considered to be NON-VCU staff, students and faculty. The VCU requestor is expected to ensure that his/her guest(s) abides by RamSafe's "Rules of the Ride."
All VCU staff, students and faculty MUST present a VCU ID when boarding the RamSafe bus.
Guest(s) must present a valid guest pass to the driver and be accompanied by a passenger with a valid VCUCard.
Requests should include the total number of passengers, including guests (NON-VCU passengers).
The requestor is responsible for their guest(s) while on the RamSafe shuttle.
All RamSafe guests must present a guest pass to the driver upon boarding the vehicle. RamSafe/RamRide guest passes are available online.
To retrieve:
Paste https://vcu.t2hosted.com into your browser, or hit "Download Guest Pass" below.
Select "Get Permit" and log in with your VCU credentials.
Select "Transportation Guest Pass."
Agree to the policies and procedures.
Select the date you would like the guest pass to start. Passes will automatically expire four days after the date you select.
Select "Print at Home."
Simply print the permit and make sure your guest presents the paper pass to the driver. This pass is valid for VCU's RamRide and RamSafe transit services.
Download Guest Pass
Rules of the Ride:
A VCUCard MUST be presented when boarding. A max. of 2 guests can ride with a valid VCUCard.
No smoking is allowed, including electronic cigarette use and/or vaping devices.
Pets are not allowed. Registered service animals, however, are welcome.
No alcohol (in open or closed containers) is permitted.
Food or drinks must be in a closed container.
Items that are transported on the bus should fit on passengers' laps or between their legs to enable safe ingress and egress.
Passengers should not chase after the bus under any circumstance.
VCU Parking and Transportation reserves the right to deny transport to any passenger if, based upon the judgment of the driver, the passenger's behavior presents a danger to the vehicle, the driver, and/or other passengers.
Get in Touch With Us!
Do you have a question or comment for RamSafe? Email ramsafe@vcu.edu, or contact us .
Lost Items: If you believe you left an item on a RamSafe vehicle, please contact the Parking Customer Service office first at 804-828-7275. If we cannot locate the item, please contact the VCU PD Property Office at (804) 828-7071 or lostandfound@vcu.edu. Additional information regarding lost & found items can be found here: https://police.vcu.edu/services/lost-and-found.